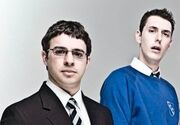 The Will-Neil Friendship refers to the friendship between Will McKenzie and Neil Sutherland.
Their friendship is sometime referred by the the fan-given nickname Weil (taken from Will and Neil).
Friendship History
Edit
Will initially refers to Neil as a semi-mate and really a friend of Simon's, though they eventually become friends. Will offends and insults Neil's dad which he doesn't really seem to mind. The two's most notable time together is in Series 3 when Neil comes round Will's house to spend time with him while his mum is away.