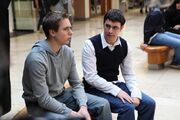 The Will-Simon Friendship refers to the friendship between Will McKenzie and Simon Cooper.
Their friendship is sometime referred by the the fan-given nickname Wimon (taken from Will and Simon).
Friendship History
Edit
Will and Simon are first put together in the first episode, where Simon is assigned by Gilbert to help Will around the school on his first day. From then on the friendship builds.